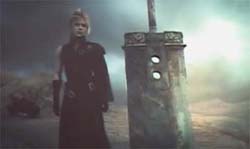 From Anime News Network:
According to the newest issue of Electronic Gaming Monthly, Final Fantasy VII: Advent Children will not be released in North America in September as previously reported.

Instead, EGM reports that Advent Children will be released "this holiday season." No further details about the date are mentioned.

Details about the release are however included in the article. There will be two releases, a single disc UMD release and a 2-disc Special Edition DVD. The 2-disc set will include extra trailers, bonus features and behind-the-scenes material, but not Last Order Final Fantasy VII. The short Last Order OAV will be included in the Final Fantasy VII: Advent Children Ultimate Edition, which will retail for 29,500 yen (~US$270) and is to be released on September 14.
The only thing that bugs me about that is that you just know that Sony is going to release a Super Ultimate Collecter's Must Have Edition some time in the future that will include the Last Order feature (which, by the way, is no relation to Battle Angel Alita: Last Order. Or was that already obvious?). I'd really rather them just wait until the whole thing is ready and then release it instead of doing a half-ass job of it just so they can have something ready for the holiday season. But no one ever listens to me. Why is that?