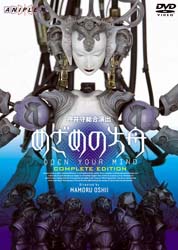 From Ain't It Cool News:
TwitchFilm points out that screen shots of the DVD release of Mamoru Oshii's animated art installation project Open Your Mind has been posted on this blog.
On a related note, I just saw the first episode of Stand Alone Complex: 2nd Gig last night via my August NewType DVD. It of course kicked ass in so many ways, which goes without saying. But the real hoot was at the end of the episode when there was a none-too-subtle reference to the beginning of the first Ghost in the Shell movie. Oshii -- as you may know -- directed that movie, and also played some kind of advisory roll in S.A.C. 2nd Gig, so that explains how the reference got there. I can't wait to see how he makes his presence known in future episodes.