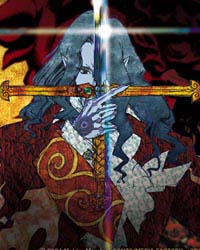 From Anime News Network:
Gonzo's 2004 series Gankutsuou has taken the "Best TV Series" title at the Animation Kobe fair. Further details can be found here.
I saw the first episode of this show -- which is based off the Dumas novel Count of Monte Cristo -- a while ago and it looked really promising. The visuals were like nothing I'd ever seen before. I'd go into more detail, but you'll probably find better descriptions by reading this review and this other review of the first DVD volume, which is due to be released in the US on October 25.