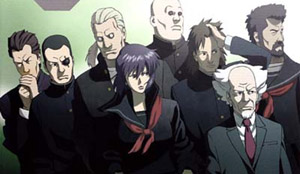 HUGE news! From AnimeNation:
Ghost in the Shell TV series director Kenji Kamiyama revealed at the recent 9th Annual Kobe Animation Awards that Production I.G. has plans for a continuation of the Ghost in the Shell: Stand Alone Complex anime. However, what format the sequal will be in has yet to be decided.
And a collective cheer is heard round the anime fan universe.
I just finished watching the first DVD of SAC: 2nd Gig, which rocked! Having more Ghost in the Shell to look forward to is a great thing indeed.